Your subdomain is the first part of your Boast URL, used in the app and for landing pages.
For example, in the following link, the subdomain is "fake-home-sales": https://fake-home-sales.boast.io/
Changing your subdomain can have unintended consequences:
Forms: Any Landing Page links that your audience may be using will need to be updated
Sequences: Any links in sequence emails that have been sent out will no longer work
To change your subdomain, click on your profile in the top right corner and select Settings.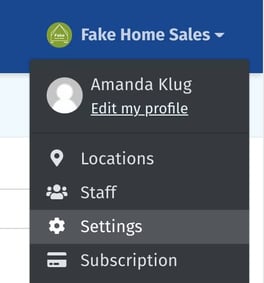 Under Hosted Subdomain, click the pencil icon.

Enter in your desired subdomain.

Click Update at the bottom of the page.
Update your form links and links within sequence emails as needed.